SkillsPawPrint.co.uk provides HR professionals with the technology to provide a differentiated service for their clients.
Skills PawPrint combines modern computer display techniques with advanced analytical methods to assist the User to determine which candidate best meets the skill requirements. This unique balance of mathematical analysis, graphical techniques combined with User skill and judgment, provides unsurpassed levels confidence in candidate selection.
The process of using the product can be divided into three steps;
Input the REQUIRED Skills for the position (Priorities).

Input the ACTUAL perceived skills of the candidate (post interview)



DISPLAY the Skills

PawPrint

.
The figure below demonstrates ONE of the ways the data is summarized and displayed:-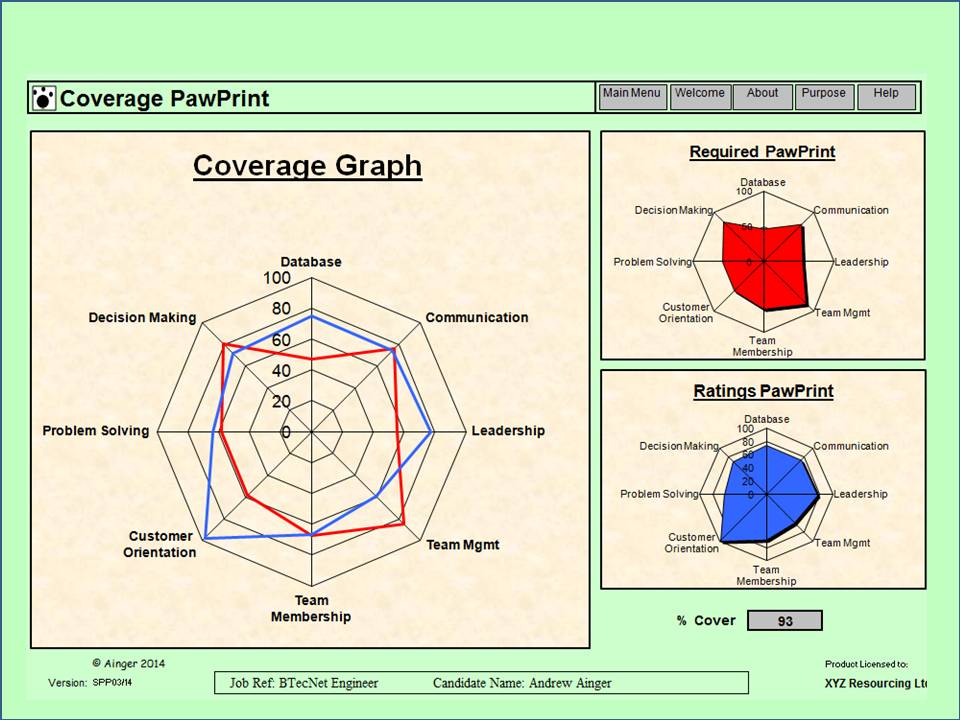 The 'Cover Percentage' indicates just one of the measures of alignment between the Candidates Skills set and the Skills as Required for the position.
Other figures indicate the detailed levels of Match and the confidence levels to which the Match can be stated.
Skills PawPrint represents a dramatic step forward in candidate selection, assisting and speeding analysis of the various options.
The Skills PawPrint displays can be printed out and provide a quick and easy summary.

The one-off single user license is available as is a maintenance contract which will provide software updates and web based documentation for new versions.

For further information on any of the Skills PawPrint products please contact:

---
Andrew

Ainger
SKILLS PAW PRINT


Tel: 01582 469 973



---
E-mail:- andrew.ainger @ skillspawprint .co.uk